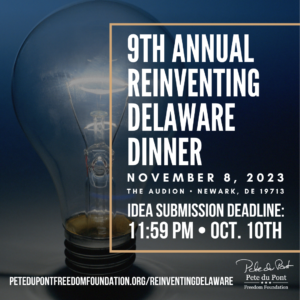 Reinventing Delaware Public Idea Submission
August 28, 2023 – October 10, 2023
Public Idea Submission for the 9th Annual Reinventing Delaware Dinner begins on August 28th and runs through October 10, 2023.
Click here to learn more about Reinventing Delaware.
Sponsorship Opportunities for the 9th Annual Reinventing Delaware Dinner are available now by clicking the button below.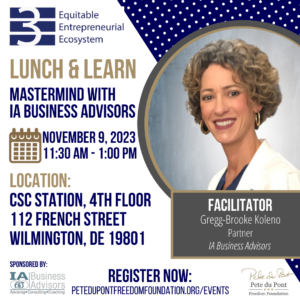 Lunch & Learn – Mastermind with IA Business Advisors
November 9, 2023
11:30 PM – 1:00 PM
WHAT IS A MASTERMIND GROUP?
 
According to Napoleon Hill, "mastermind group principles are when the coordination of knowledge and the effort of two or more people, who work toward a definite purpose, in the spirit of harmony."
 
Masterminds focus on discussing each other's challenges and then brainstorming each challenge collectively as a group.
 
While you must always do the work of becoming a great success, a mastermind group can harness and maximize the spiritual focus of your success.
 
Being part of a mastermind group allows you to share in a non-competitive environment! Each participant is key to the success of the group. During the mastermind, everyone gives feedback and helps brainstorm new possibilities, become accountability partners helping each other to stay focused and on track.
 
You'll gain tremendous insights which improve your business and personal life. Your mastermind group is like having an objective Board of Directors, a success team, and a peer advisory group ALL ROLLED UP INTO ONE!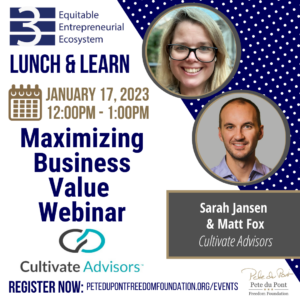 Lunch & Learn – Maximizing Business Value Webinar with Cultivate Advisors
January 17, 2024
12:00 PM – 1:00 PM
Valuation Drivers – what's your business worth?
This webinar gives founders an idea of what value drivers are in their business, what are some risks to the valuation as they grow/scale, what decreases the value multiple, and what builds/increases value. During the presentation, advisors at Cultivate and Sarah Jansen (Director of Partnerships at Cultivate) will present on the valuation report so the participants will understand what are the key areas to grow the value of their business and how it fits into the long term plan of the business. The report is free for participants of the presentation. After the presentation, participants have an opportunity to schedule a call with Sarah to learn more about increasing their valuation or improving the health of their business.